Frankston Symphony Orchestra
Frankston Symphony Orchestra (FSO) is one of ten community orchestras in Victoria, Australia.
We are an enthusiastic group of community musicians generously volunteering our time and experience to bring orchestral performances to the stage.
JOIN US FOR OUR 50TH ANNIVERSARY CONCERT SERIES.
In our next 50th concert, we will perform Tchaikovsky Symphony No. 4 at the Mornington Community Theatre on November 26th 2017.
There are Switched on Symphony workshops on 19th October and 26th October. If you would like to play the Tchaikovsky Symphony both workshops nights will have tutors.

Brass: Thursday 19 October at St Thomas Church Langwarrin, 7.45 – 10.00pm.
Tutor Ken McClimont ex MSO principal trombone

Woodwinds: Thursday 26 October at St Thomas Church Langwarrin, 7.45 – 10.00pm.
Tutor Peter Sheridan Monash Uni, Low Flutes

All Strings: Thursday 19 Oct and 26 Oct Mechanics Hall, 7.45 – 10.00pm. Tutor Andrea Keeble, MSO sessional player, Pizzicato effect educator, teacher, performer.

Download the Frankston Symphony Orchestra 2017 Workshop Application Form

Read the recent article written by the Peninsula Star on the Frankston Symphony Orchestra
We support young soloists, ensemble musicians who are the future in keeping orchestral music alive.
We are based in the Melbourne suburb of Frankston on the Mornington Peninsula. The orchestra forms a part of the Frankston Music Society, which also includes the Mornington Peninsula Chorale.
The Frankston Music Society was founded in 1967 by the world-renowned pianist Vera Bradford and fellow residents from the area. The orchestra was formed first in 1968, with the chorale to follow in 1979.
Bradford raised the profile of the orchestra dramatically during its early years. She performed with it herself as well as organised notable soloists to perform with it, including Ron Farren-Price and Geoffrey Tozer.
The Frankston Symphony Orchestra has had many notable conductors.
For the complete list of our conductors and the details of our current conductors please select the button below
Frankston Music Society called for musicians to help start the Frankston Symphony Orchestra.
We are currently looking for the following players to join our community orchestra
The Orchestra has performed many concerts over the years since it was founded with a call for members back in 1967.
For details of our past concerts please select the button below
FMS 50th Anniversary Concerts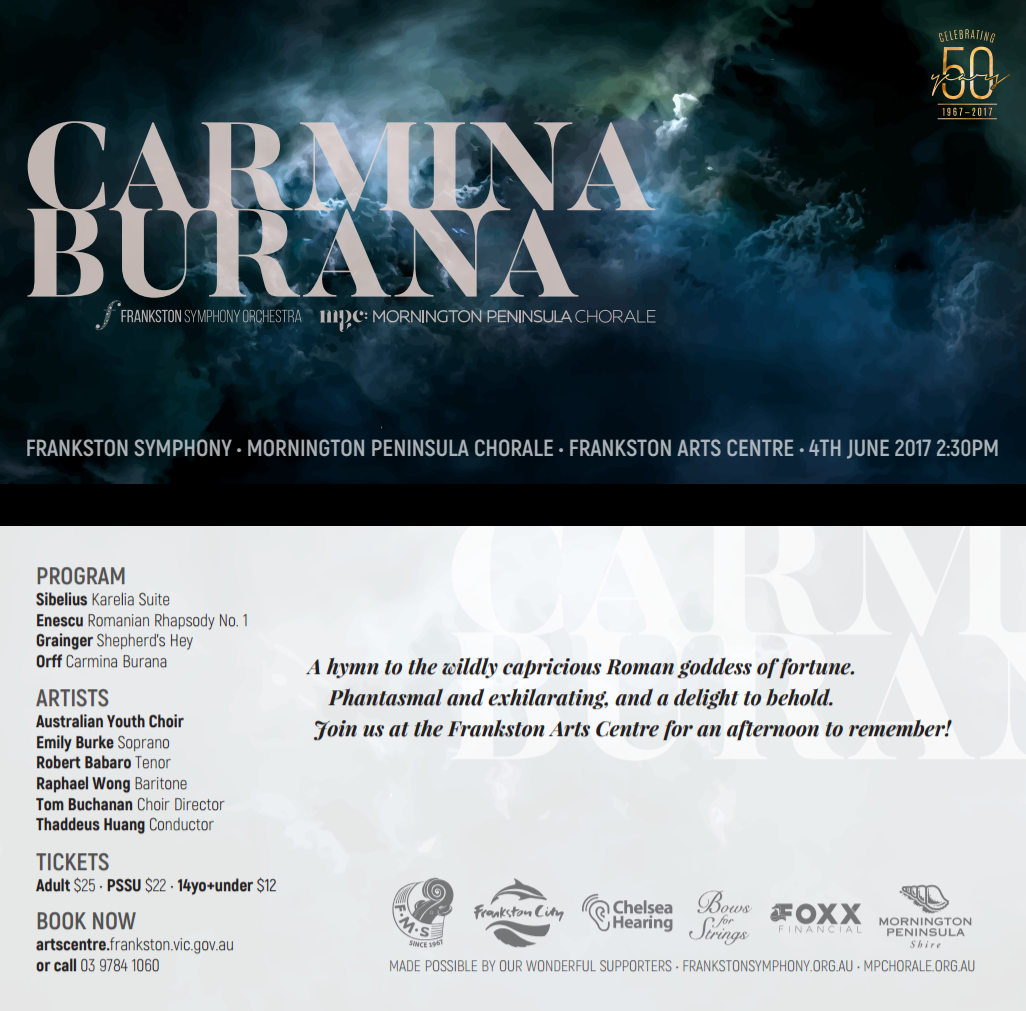 When Carl Orff penned those first notes of "O Fortuna", a hymn to the wildly capricious Roman goddess of fortune, he had no idea it would become one of the most recognised pieces of music of the 20th century.
While Carmina Burana remains the only major work in his catalog, it has gone on to become a favourite of choirs and orchestras and yes, even film directors. The work draws its inspiration from 11th, 12th and 13th century Latin texts poeticising clerical satire to vagabond songs. This phantasmal and monolithic work is a delight to behold, and we are glad to bring it to the stage at the Frankston Arts Centre as part of our 50th year anniversary concert series.
Carmina Burana Latin to English Translation
Featured artists
Robert Barbaro tenor, Raphael Wong baritone and Emily Burke soprano. Also the Australian Youth Choir.