MPC – Broadway and Beyond

Come and join the MPC for Broadway and Beyond
Click here to book your tickets for our Concert.
www.trybooking.com.au/BXDYE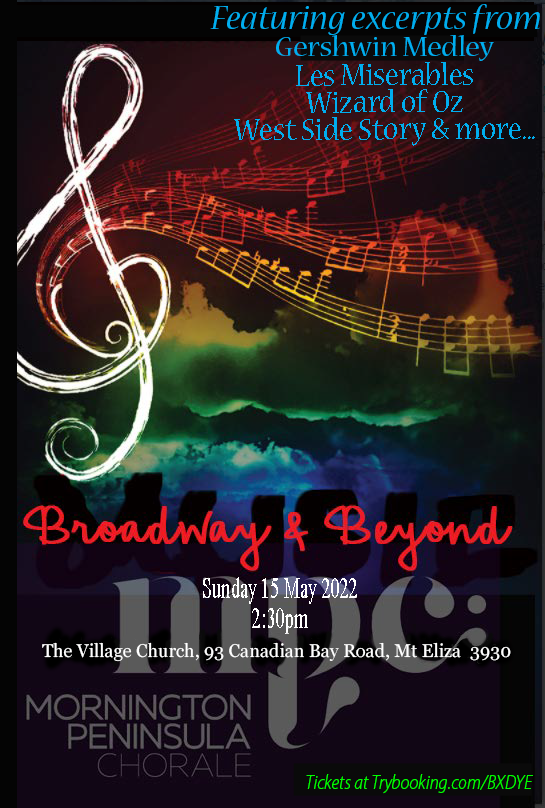 The Mornington Peninsula Chorale are very excited to perform a fabulous afternoon of beautiful music which include classics such as a Medley from Gershwin musicals, Les Miserables, Wizard of Oz, a Rogers and Hammerstein medley and more!
The afternoon will be conducted by Chorale Directors, Mr Tom Pugh and Ms Katrina Waters, supported by accompanist Ms Heather Wickes.
Va Pensiero – Chorus of the Hebrew slaves – Verdi
On Broadway medley – Rogers and Hammerstein
Wizard of Oz medley (inc Somewhere Over the Rainbow) – Gilpin
Who Could Ask for Anything More medley – Gerswhin
West Side Story medley – Berstein/Sondheim
Moon River – Mancini
Aint Misbehavin – Waller/Brooks
Les Miserarables medley – Arr Lojeski
Anthem for CHESS – Rice/Anderson
You Raise Me Up – Lovland
It Don't Mean a Thing – Ellington
The Village Church, 93 Canadian Bay Rd, Mt Eliza 3930 at 2.30 on Sunday 15th May 2022