Check out our collection of photos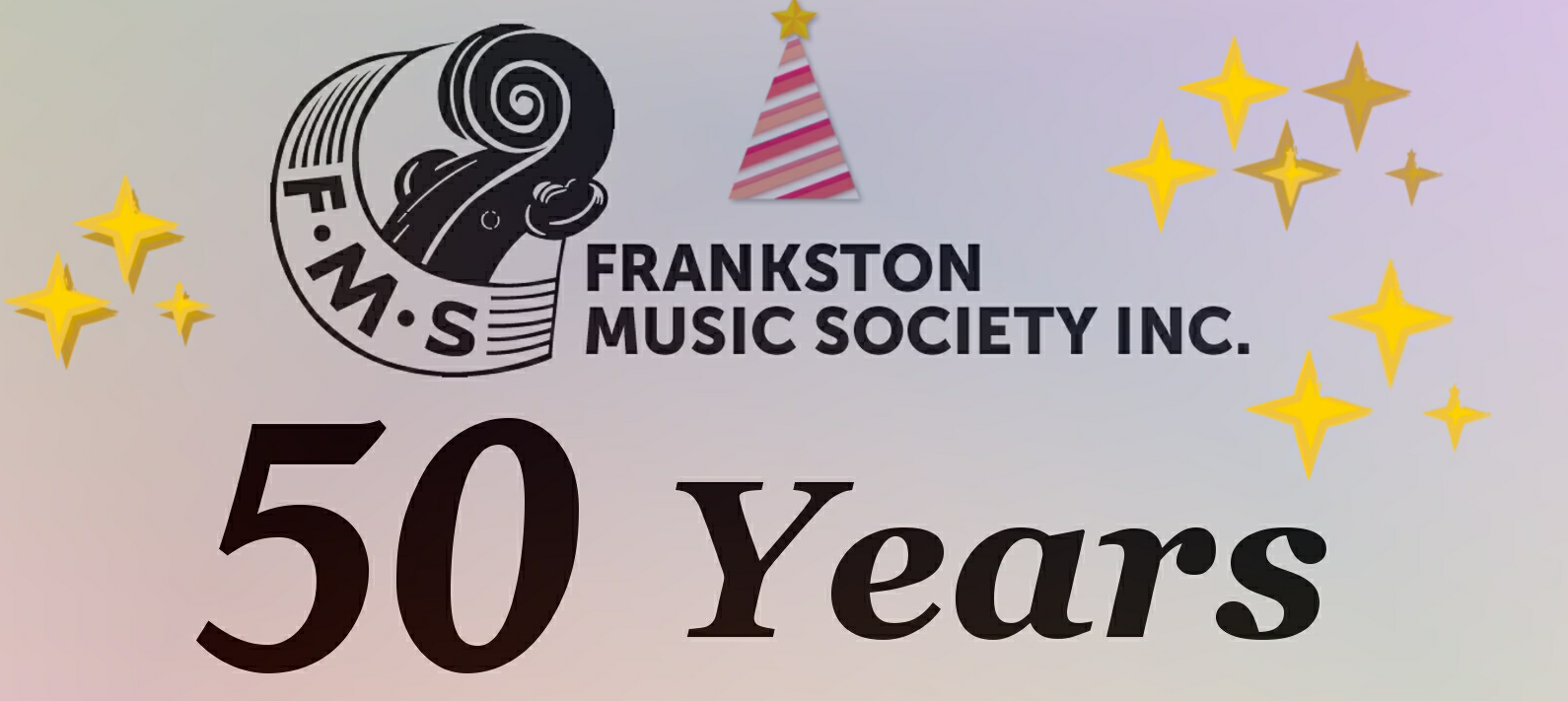 FMS 50th Anniversary Concert Series.
Christmas Concert
The Joy to the World Christmas concerts were held on Thursday 7 December, 7.30pm and Sunday 10
December, 2.30pm. Both concerts were held at Peninsula Community Theatre. It was a great concert to cap off a year full of highlights, goodbyes and introductions. The MPC sang with such poise, and emotionand you could hear a pin drop. They sang many Christmas crowd favourites covering twenty one pieces ending with the Hallelujah Chorus.
The Mornington Bach Orchestra performed Burlesque de Don Quixote. We welcomed and introduced Co-Chorale director's Katrina Waters and Tom Pugh. Katrina was guest soloist soprano who performed the
Holy City, Rusalka's Song to the Moon and Glory to the Newborn King. We also paid tribute and farewelled Tom Buchanan who stepped down after years of loyal service in directing the choir and building it up to what it is today. Thanks to Michelle Nguyen piano accompanist who does a wonderful job with the choir. Both Christmas concerts bring joy to everyone in attendance with raffles, wine, tea, coffee and shortbreads to enjoy. Congratulations to everyone in the MPC.
Symphony Spectacular
The Frankston Symphony performed Hector Belioz – Roman Carnival Overture, Edvard Greig – Piano Concerto in A minor Opus 16 with Concerto Soloist Glenn Riddle and Pyotr Ilyich Tchaikovsky – Symphony No. 4 in F minor Opus 36 at the Mornington Community Theatre on November 26th 2017.
The Symphonic work was work-shopped at the Switched on Symphony workshops on 19th October and 26th October. Thanks to the tutorship by Ken McClimont ex MSO principal trombone, Peter Sheridan Monash Uni Low Flutes and Andrea Keeble, MSO sessional player.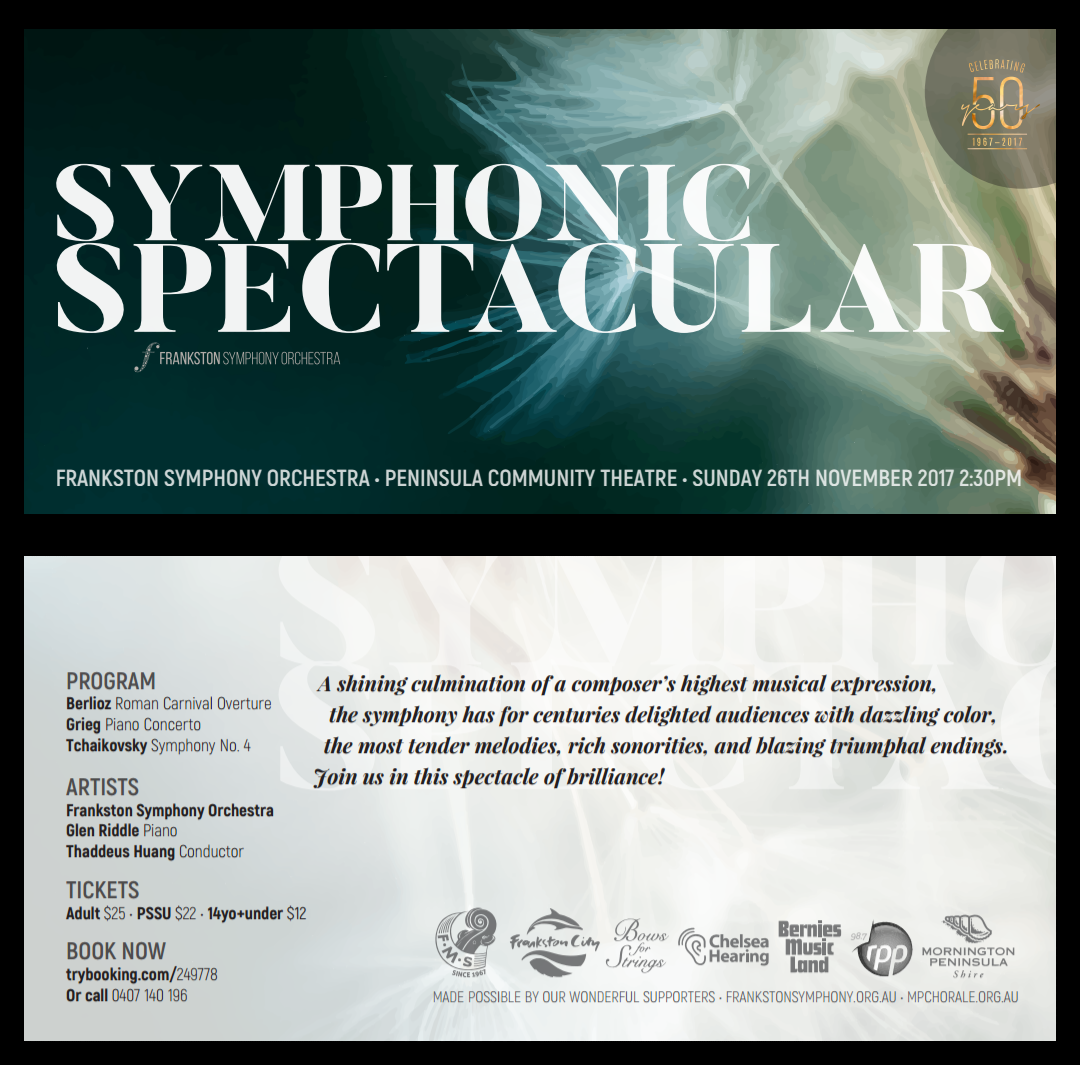 Roman Carnival Overture – Hector Belioz
Composed in 1843 and premiered in 1844. This was a vigorous work out for the orchestra with its breathless pace and virtuosic demands it places on all instrumentalists. The Roman Carnival Overture is an extroverted and brilliant orchestral work.
Piano Concerto in A minor Opus 16 – Edvard Greig with Soloist Glenn Riddle
Composed in 1868 when Edvard Greig was just 24 years old. The work comprises 3 movements.
I. Allegro molto moderato – This is one of the most recognisable and exciting of all of the western classical form. The wonderful interplay between the piano and the orchestra that leads us to the powerful cadenza with an insightful and virtuosic performance by Glenn Riddle.
II. Adagio – A lyrical movement that is slow and sweet in contrast to the vigour of the 1st movement. This movement warms your heart with its beautiful melodies and was performed with a flowing gentleness and legato that our audience loved.
III. Allegro moderato molto e marcato – the finale completes this concerto showcasing the beauty of the piano and the mastery of the soloist. An energetic and dashing movement that is full of surprises that concludes with an orchestral and virtuosic performance by Glenn Riddle
To find out more on our guest pianist Glenn Riddle, follow this link to the profile of Glenn Riddle
Thanks to Glenn Riddle for a fabulous performance and the meet and greet session with Glenn Riddle on piano and you did such a superb job.
Symphony No. 4 in F minor Opus 36 – Pyotr Ilyich Tchaikovsky
This was written between 1877 and 1878 and premiered at a Russian Musical Society Concert in Moscow in 1878. The work pushes the boundaries of the symphony in ways that allowed Tchaikovsky to develop an intense emotional quality to his compositions and sets a benchmark for new music in the next century.
I. Andante sostenuto, Moderato con anima, Moderato assai, quasi Andante, Allegro vivo – This movement opens with the horns and brass heralding the orchestra to come to join in the melodies with vitality and power. There are many changes in tempo and dynamics such that the melodies are woven in and out of a loose structure that continually changes and develops throughout this particularly long movement.
II. Andantino in modo di canzona – A beautiful melody is played by the oboe and then unfolds in the cellos that reflects on the melodies developed in the 1st movement and leads the orchestra into this slow and gentle movement.
III. Scherzo Pizzicato ostinato allegro – This movement celebrates the pizzicato form throughout. The winds pick it up with flute and piccalo and then the brass interupt with a marching tune reminiscent of Tchaikovskys Ballet music. This is a fast moving scherzo with dynamic pizzicato swells that concludes on a quiet and gentle note.
IV. Finale Allegro con fuoco – This movement begins with a clash of cymbals and a rollicking tune. Tchaikovsky quotes an old Russian song "In the field stood a birch tree". The tune is repeated and the orchestra carries on with variations on the old Russian song. A quote from the 1st movement interrupts us and drags us back to the opening of the 1st movement and the orchestra brings us all together in a grand ending.
Review by Thaddeus Huang – FSO Conductor
I'll keep it short and sweet: three rounds of applause on sunday – you earned every single clap!
In all my time at FSO I have never seen the audience react so enthusiastically, and likewise, I have never seen such a look of achievement and satisfaction on your faces.
It was a joy. Congratulations.
At rehersal our principal Tuba, Harry Williams mentioned there was a record he has where Bernstein is talking about the emotional quality in Tchaikovsky Symphony 4. I found this on Youtube, you can view the video of this in the Youtube Link
50th Proms Concert
In our special 50th Proms Concert on August 27th at the Frankston Arts Centre our special guest performer was Leigh Harrold.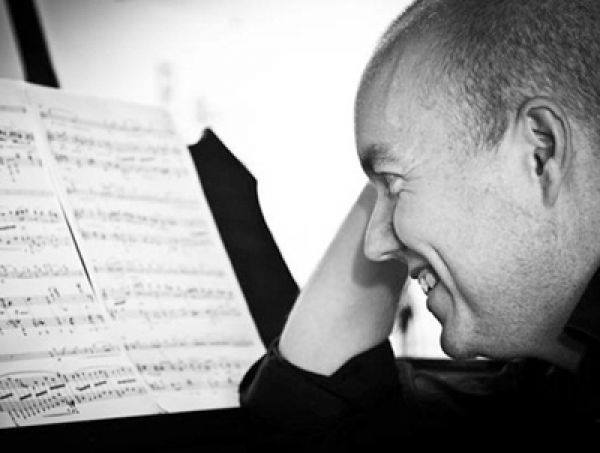 The Committee has prepared a small historical book commemorating our 50 year history.
This was an exciting day of music and celebration for our 50 years of making music together. We almost filled the Frankston Arts Centre and our audience were fantastic in their support for our performances. The repertoire was again challenging and designed to do so for all musicians and choristers. We showcased Gershwin's Rhapsody in Blue with the extraordinary performance by Leigh Harrold who received a rousing standing ovation. The feedback was so positive from the audience and also from Leigh Harrold who complimented the standard of playing, conducting and our organisation, he thoroughly loved the afternoon. We congratulate Michael Powell for his moving interpretation of Koehne's Horse Opera. He won many fans that day and we are proud to have him as a member of the FSO. Other pieces were Grainger's Molly on the Shore, Bernstein's Overture to Candide, Hadyn's Heavens are Telling, Walton's Crown Imperial with the Peninsula Youth Music students and a medley by the Mornington Peninsula Chorale (MPC) of Roger's and Hammerstein and All I want for Christmas.
Twenty two VIP guests were in attendance representing both the City of Frankston, the Mornington Shire Council, councillors, mayors and deputy mayors, local MP, past committee members, players and
sponsors. We thank Jane Kelley for writing the historical book that so aptly chronicled our history,
Rosemary Bywater and Susan Cooper and their team who set up the wonderful display boards in the FAC
foyer. Thanks to Ashley and Harry for the choir and orchestra riser trailers and set up risers for chorale woodwind and brass. Thanks to Neil, Cathryn, John and Anne for setting up conductors rostrum, chairs and stands. The cake, the balloon drop and complimentary pens capped off a wonderful, proud and uplifting way to end the day.
The Committee presented 50th year mementos to members and hard working friends of the Society.
Trevor Holton for over ten years as leader of FSO.
Amanda Lau for her years as President.
Brendan Elliget for his years as librarian and composer.
Judi McKee for her numerous years as Choir convenor and librarian.
Moira Robinson for her years as Choir conductor and convenor.
Frank Isbister for organising and managing the risers.
Jan Isbister for her work with Minimbah.
Lesley Clapperton for her numerous years on the committee in many roles.
The Committee also organised a special wine offer to celebrate our 50th year.
Rhapsody in Blue – George Gershwin
Pianist Leigh Harrold performed with the FSO Rhapsody in Blue. This was a fantastic performance with a brilliant mix of interludes of piano jazz tunes and tricky but effective brass parts. Here is a Bernstein Youtube Link of Rhapsody in Blue with the New York Philharmonic Orchestra.
Horse Opera – Koehne
This is part of the "Inflight Entertainment Suite". It has an amplified Oboe which spins a sweet melody and was performed beautifully by our principal Oboeist Michael Powell. Here is a Youtube Link to remind you of the sweet melodies in this Horse Opera.
Candide – Bernstein
A wonderfully complex and intricate piece of music from a Comic Opera.
Here is the Youtube Link where the canon theme of Candide comes from.
Molly on the shore – Grainger
The Heavens are Telling – Haydn
We have received much positive feedback from our audience and VIP guests who were there for our 50th Proms Concert.
Leigh Harrold was such a hit both on stage and off. He received a standing ovation from our audience. Whenever this happens in an Australian crowd it needs to be celebrated. Leigh Harrold posted a huge thankyou to Thaddeus and all the wonderful members of the Frankston Symphony Orchestra and Frankston Music Society for such wonderful playing and hospitality. "I had such a fun time making music with you all – thanks for helping me bring Gershwin's wonderful score to life. Many congratulations on your 50th anniversary celebrations – what a milestone to be proud of! Very best wishes" – Leigh.
Review of Michael Powells Performance
Congratulations Michael on a most exquisite performance on your oboe of Koehne Horse Opera. Many audience loved the piece and you. They were moved and amazed to hear such a wonderful piece of music come to life via your interpretation.
Review from Antionette of PYMS
On behalf of Peninsula Youth Music Society, I would like to congratulate yourself and the Frankston Music Society committee on a wonderful concert to celebrate 50 years of the Society. We can only imagine the amount of work that went on behind the scenes in preparation for the day and on the day. We would like to thank Frankston Music Society for inviting our students to be a part of your 50th Anniversary Proms Concert. What a wonderful opportunity for the students and especially to be involved in celebrating 50 years of Frankston Symphony Orchestra.
Every time PYMS are involved we get wonderful feedback from the parents and students saying how much they enjoy playing with the orchestra and what a great experience it is.
If possible, we would love to get a copy of the photo that was taken of PYMS for our records and to pass onto the students. Once again congratulations to all involved.
Review by Heather Birrell
Congratulations to you, committee, and all the other helpers enlisted to make our 50th Anniversary such a success. It was a privilege to be a part of it. I cannot believe it is 50 years since Vera had the vision and drive to start the society. Well done to all.
Thank you must go out to the following people for the extra jobs done to make our 50th Proms concert so successful:
Foyer boards – Rosemary Bywater, Susan Cooper and all those who assisted them on the day and in organising prior.
Choir seating – Christine Manktelow and her assistants.
Choir risers – Frank & Jan Isbister and the team.
Cake – Jenny Boux and Jan Isbister and the helpers.
VIP Meet Greet – Judi McKee, Netsa and other committee members.
Historical booklet – Jane Kelley who was set a mammoth task and did it with such ease and flare.
Blue trailer – Harry Williams and the crew who rostered themselves on each Thursday night to bring and return the timpani and percussion items.
Balloons – Dorothy Aspin and committee, Wine fundraiser, bags, pens.
Front of house for FMS- Lesley and Ian Clapperton, Netsa and Philip Horsey and the other helpers who sold programs, bags and gave out pens.
MC – Brendan McGreal MC who volunteered his time and talent for the occasion.
MC Script – Trevor Holton thanks to a magnificent words smith. Everything was spot on and the audience loved it. Thanks for your leadership of FSO.
Guest players – ever becoming familiar faces we thank you for assisting us again.
Brendan Elliget – for your arrangement of Waltzing Matilda
Thaddeus Huang – Thank you for your conducting experience and having faith in us to perform at maximum capacity on concert day. People are impressed by your conducting style.

FMS 50th Year Concert Series
Oratorio Concert
With months in the planning the FMS 50th Anniversary Oratoria Concert was an amazing event. With the close involvement of the FSO, MPC and the Australian Youth Choir with solists Emily Burke, soprano, Robert Barbero, tenor and Raphael Wong, barritone, Talaylan Zeppa MC and Thaddues Wang, conductor, we performed 'Sibelius' Karelia Suite, 'George Enescu' Romanian Rhapsody No. 1, 'Percy Grainger' Shepherd's Hey and 'Carl Orffs' Carmina Burana.
It was a spectacular show with a large chorale, orchestra and percussion section filling the theatre with a huge sound. The Frankston Arts Centre was full and the atmosphere was buzzing from the opening bars of the 1st movement to the closing bars. As a performer in the orchestra I have one of the best seats in the house and it was fantastic to hear to the wonderful
music we made that day and it is a credit to all involved.
Karelia Suite – Sibelius
This was a great piece to open the concert with as Sibelius opens our minds to his world of musical pictures and the dramatic landscapes of his native Finland. With beautiful dynamic changes and the underlying rhythms and melody he paints atmospheric musical images and you are drawn into the rich colours and textures in his music. This was originally written and
performed in 8 pieces (tableaux 1 – 8). Sibelius however believed that it was too loosely constructed in tableaux form for a concert setting, so he later condensed the eight scenes into the three movement work known as Karelia Suite, Op. 11. The Karelia area in the south east of Finland is a beautiful wilderness area full of history and peasant music. This work is a trio of orchestral musical pictures depicting scenes in history, inspired by the rough simple life of the Karelian people.
Intermezzo. Moderato, this was based on the brass theme in tableaux 3. The music starts slowly in the strings conjuring up images of vast snow tundras becoming more and more
brilliant and explosive as it is pushed forward with a fanfare in the brass. There is a lovely slow down and decrecendo with the brass and horns bringing us gently back down to earth.
Ballade. Tempo di menuetto, this was based on tableaux 5. This movement starts with a moody melodic phrase which is then followed by a full string section and the cellos break away keeping a metered pace under the towering orchestral melodies that Sibelius unfolds. Such a beautiful piece of music, it is full of melancholic feeling and emotion and uses the melodies in the strings, winds, horns and brass to conjure up his emotive musical pictures.
Alla marcia. Moderato, this is the final movement and is an exhilarating march that was adapted from tableaux 5 ½. The music was intended to depict a violent siege, but this feels more like the happy patriotic army, one that pushes the exciting and patriotic aspects of a jolly army marching to war. Here he uses bright and sunny breaks that get pushed along by the brass and percussion sections as it speeds up to reach the climatic ending.
Romanian Rhapsody – George Enescu
Enescu conceived his rhapsodies as orchestral pieces from the start, whereas Liszt's Rhapsodies began as piano solos. Romanian Rhapsody No. 1 begins with one of the first folksongs Enescu learned to play as a 4-year-old on his Violin, "Am un leu" ("I have a coin and I want a drink"). Shepherds, amusing themselves during their long days tending their flock far away from home and family would fashion wind instruments out of whatever they could lay their hands on, grass, bark and bones and in doing so they improvised ornaments on familiar folk tunes. The orchestration reflects the conditions under which the tune was most often played. Enescu's orchestration splits the tune between the clarinet and oboe, as if two colleagues are looking forward to a night out on the town together. It even captures the bird songs that might have been heard in the background, as if anyone listening to the shepherds had noticed them. After this opening the tune then becomes a dance. The other themes are all dances too as the peasants turned to dancing and drinking for entertainment so the music portrays the whistling, stomping, and whooping of the increasingly inebriated party. The Romanian Rhapsodies have alternating slow and fast sections based on these gypsy folk song elements as one dance leads into another the pace speeds up and crescendos with great effect.
The dances gather in intensity and includes many kinds of dance music. One dance early in the piece sounds a bit like a Viennese waltz and others show the exotic scales of 500 years of rule by the Ottoman Empire. The violas have a forte solo and the cellos have an odd passage that scoops the pitch up at the end of every note. The violins have fast rythmic arpeggios withbrass and percussion adding to this rythmic phrasing, and the flutes and woodwinds have fast chromatic phrases that possibly mimicks the bird songs that accompanied the shepherds.
Shepherds Hey – Percy Grainger
As part of our 50th Anniversary year we are playing a Percy Grainger piece in every concert.
This is one of his best known and most often performed of the early folk song arrangements which Percy Grainger composed orchestral versions for between the years 1908 and 1913.
Grainger pursued dual careers as concert pianist and composer in London. He was a meticulous collector of folk songs in the field, in England, Denmark and Norway. The tune of Shepherd's Hey had already been collected by Cecil Sharp, Dean of the English folk song movement, Grainger acknowledges he had also heard it "From the playing of the fiddler of the Bidford Morris Dancers in 1906."
The arrangement uses four variants of the tune that move through the instrumental registers (with score directions such as merrily, chippy, bumpingly, or play top notes as piercing as possible.) Have you ever thought it should be 'Shepards Hay', with its folk song origins, but the word 'Hey' denotes a particular figure or step in Morris Dancing. Perhaps because of the frequent holding back and quickening Grainger noted, "This setting is not suitable to dance Morris Dances to." Shepherd's Hey was "Lovingly and reverently dedicated to the memory
of Edvard Grieg" who was Grainger's friend and mentor and died in 1907.
Carmina Burana
When Carl Orff penned those first notes of 'O Fortuna', a hymn to the wildly capricious Roman goddess of fortune, he had no idea it would become one of the most recognised pieces of music of the 20th century.
While Carmina Burana remains the only major work in his catalog, it has gone on to become a favourite of choirs and orchestras and film directors. Oliver Stone used it to great effect in the biographical film of 'The Doors' to portray the torment of the lead singer Jim Morrison. John Boorman also used it in the film 'Excalibur', a British epic fantasy war drama film that retells the legend of King Arthur and the knights of the round table.
| | |
| --- | --- |
| The work draws its inspiration from 11th, 12th and 13th century Latin texts poeticising clerical satire to vagabond songs. | |
The compositional structure is based on the idea of the turning Fortuna Wheel. The drawing of the wheel, the Burana Codex includes four phrases around the outside of the wheel: "Regnabo, Regno, Regnavi, Sum sine regno". (I shall reign, I reign, I have reigned, I am without a realm).
Within each scene, and sometimes within a single movement, the wheel of fortune turns, joy turning to bitterness, and hope turning to grief. O Fortuna, the first poem completes this circle, forming a compositional frame for the work through being both the opening and closing movements.
This phantasmal and monolithic work is a delight to behold with months in the planning our FMS 50th Anniversary Oratorio Concert was an amazing event.
With the close involvement of the FSO, MPC and the Australian Youth Choir with solists Emily Burke, soprano, Robert Barbero, tenor and Raphael Wong, barritone, Talaylan Zeppa MC and Thaddues Wang, conductor. It was a spectacular show with a large chorale, orchestra and percussion section filling the theatre with a huge sound. The Frankston Arts Centre was full and the atmosphere was buzzing from the opening bars of the 1st movement to the closing bars. It was fantastic to hear to the wonderful music we made together and credit must go to all involved.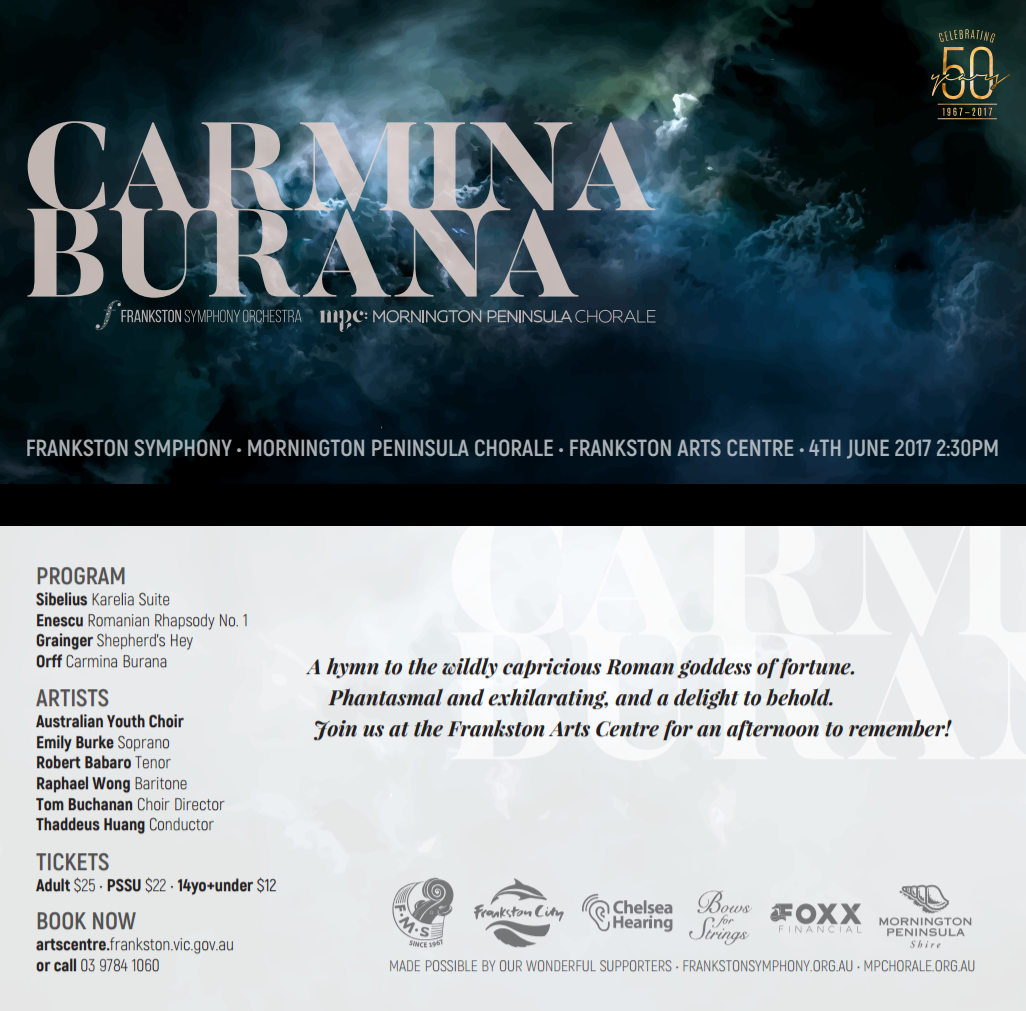 Carmina Burana Latin to English Translation
FMS featured artists
Robert Barbaro tenor, Raphael Wong baritone and Emily Burke soprano. Also the Australian Youth Choir.
Reviews on the Carmina Burana Concert
We went to Carmina Burana and really enjoyed it. Very well done by everyone. We could not stay after the performance as we had visitors coming for dinner and needed to rush back home. Good luck with the 50th anniversary Proms Concert.
– From Terry and Keren Smith
A Melbourne music critic who critiqued the concerts of the professional concerts, once wrote of a performance given by the Frankston Orchestra that "they are amateur in name only". He certainly would have said the same after the performance at the Frankston Arts Centre on Sunday, 3rd June, which featured the great work of Carl Orff, 'Carmina Burana"
The opening orchestral works were the Karelia Suite by Sibelius, Romanian Rhapsody Number 1 by Enescu and Shepherd's Hey by Percy Grainger, a most pleasing program of works ably conducted by Thaddeus Huang.
After interval, the much anticipated,'Carmina Burana' was performed. I have never seen the stage so full, with the augmented Frankston Orchestra, and behind them the large Mornington Peninsula Chorale (conductor Tom Buchanan) and the Australian Youth Choir (conductor Hrisanthi Tomaceveski). The three soloists Emily Burke, soprano, Raphael Wong, baritone, and Robert Barbaro, tenor, appeared a little later on stage. Looking at the sheer logistics of performing this work, one can see why it is not performed often. We all felt very privileged, not only of hearing this work at the Frankston Arts Centre, but also of hearing such a professional account of this monumental work.
This concert, honouring the memory of the founder, Vera Bradford, one of Australia's finest pianists, lived up to her philosophy of always challenging the orchestra by giving them demanding works. She also gave opportunity for brilliant young Australian singers and instrumentalists to perform with an orchestra. I can remember when a young Geoffrey Tozer in 1978 played Chopin's Concerto in E minor with the conductor Yoshinao Osawa. There were many others who got a good start in their musical careers by having the experience of playing and singing with the Frankston Orchestra.
The soloists in Carmina Burana, although young, were highly professional singers with extensive experience in the opera houses of Europe.
The combination of orchestra, choirs and soloists made this a thrilling performance where the capacity audience showed their appreciation at the conclusion by giving a standing ovation.
– From Ivor Morgan.
Photos from the Carmina Burana Concert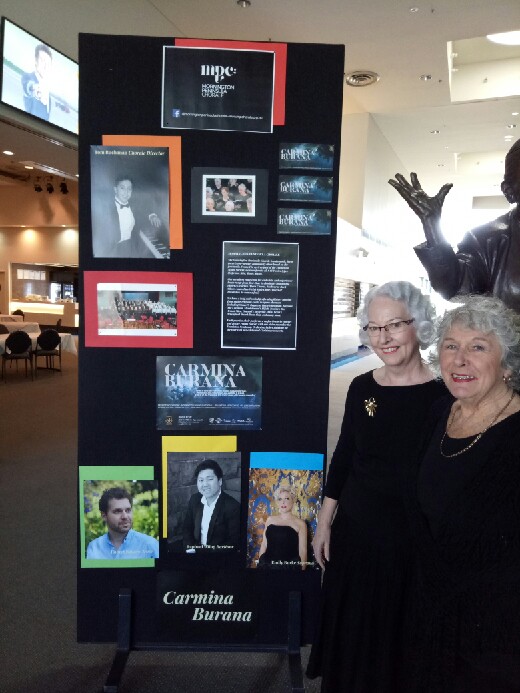 Peter and the Wolf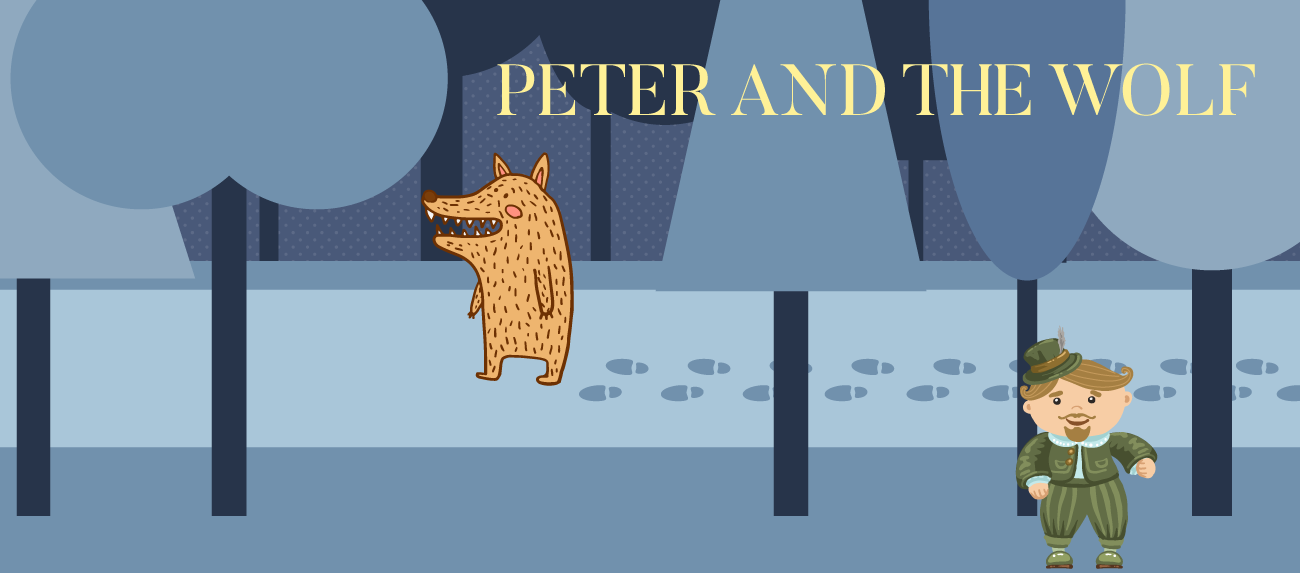 The Peter and the Wolf concerts have been received well by local schools. We opened the concert with Graingers Childrens March which enlivened the audience with a marching activity and helped them to settle into our premier piece composed by Sue McGrath (sue plays in the second violin section). Sue specifically wrote Metamorphosis to celebrate 10 years of playing with the FSO and we premiered the suite at the childrens concert this year. Here is the abstract from the piece.
Metamorphosis tells the story of a little Grub which grows into a caterpillar and then changes into a Butterfly.
Grub Time
The Grub spends all day munching and munching as many leaves as it can find. You can hear the grub munching away as he takes bigger and bigger bites and eating faster and faster as he grows into a big caterpillar.
Chrysalis
The next part of the story is about the caterpillar living in a Chrysalis. The caterpillar makes a sticky button of silken thread, hangs upside down and makes a little house for itself called a Chrysalis. The caterpillar stays nice and warm and gradually changes into a Butterfly. Nobody can see this change happening, but through the music we can imagine the wonderful change that is going on within the chrysalis.
Butterfly Dance
Finally the butterfly emerges from the Chrysalis and waits for its wings to dry out before it can fly. The music describes how the Butterfly flies over meadows, lands on flowers, feeds on nectar and keeps dancing until it finds a place to lay eggs. Each egg becomes a little Grub and then the whole story begins again.
Peter and the Wolf
This year our childrens concert was held at Bayside Christian College in Langwarren. With many local primary and special schools attending and also an active group of seniors from Monash Health. It was quite an event for us showcasing the orchestra and the narrator Talaylin and was well received by the audience and the staff present from the schools. Many of the students were very interested in the instruments we were using and the use of hats to represent the characters in Peter and the Wolf. You could see them standing up and pointing out the animals when their solo parts were played and launching from their seats when the timpani thundered out the hunters theme. The sound in the hall was bright and at times loud which helped to keep the audience alert and following the story line. Our conductor Thaddeus was under the weather but soldiered on and did an outstanding job on the day ensuring we were all in time and following the score to support our narrator. Thanks to everyone involved in presenting this concert and to our fabulous narrator Talaylin Zeppa. Thanks to Brendan who teaches Maths at the college for organising the event and Harry and Kevin for setting up the risers on the Sunday morning before the show. Special thanks to our fantantantastic percussion section and to everyone involved in this concert.
FMS featured events
Sunday 19th March,
McClelland Gallery.
Dormitorium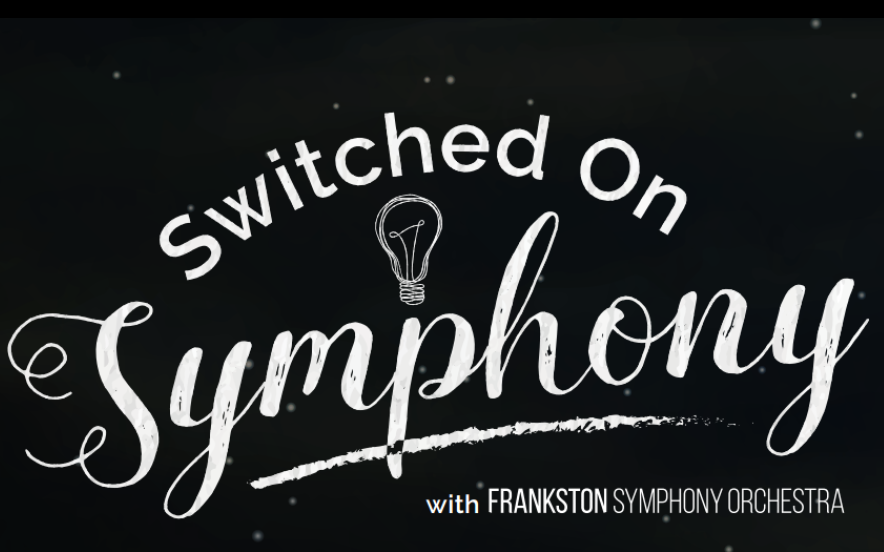 We are inviting you to join us for our Orchestra Workshop, please download the Application Form in here and fill it in. Post us your completed form to join in on our switched on symphony workshop.